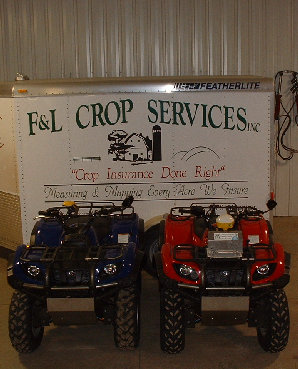 Agency Info
F&L's number 1 goal is to provide quality service to each and everyone of our clients - regardless of size and location. And to continue that level of service, we have brought Josh into help Glen see the clients face-to-face. The agency also prides itself with the fact that we do the majority of our paperwork at the "client's kitchen table". We attempt to adjust our style to work with each client's needs. The agency also prides itself in building relationships with it's insured's, to a point where out-of-state landlords will stop at Mitchell, SD to visit us. Please be the next to come and visit or e-mail us to set up a time to discuss your insurance needs.
F & L Crop Services has been in business since March 1, 1988. Since its inception, Glen Lowrie has specialized in Crop Insurance only. The philosophy to that is "Do one thing and do it right". To meet that goal, Glen and his staff worked hard to learn and understand the crop insurance business and policies from the start. As a result of that dedication and hard work, we are able to be a leader in crop insurance when it comes to service for our customers. F & L Crop Services was one of the first agencies in the U.S. to incorporate GPS Field Mapping into crop insurance. Glen was active getting GPS Mapped Acres accepted by RMA.
Our philosophy is to understand crop insurance to the degree that we can provide our customers the best advice available and to excel in customer service. Our motto is "CROP INSURANCE DONE RIGHT".
Glen had built the agency as a "hands-on" agency. He believes that each customers desires a personal approach to the business. He handles the majority of the contact with his farmers each year.
The staff consists of :
Glen Lowrie Owner/Agent
Josh Bialas Agent
Monique Frey Mapping (importing and printing), Data Entry, Data Collection
Tammy Lowrie Office Manager, Accounting
Several part-time employees that help with the GPS Field Mapping
"F & L Crop Services, Inc"